Hello! It's me, Heather, owner of Ewe Ewe Yarns.
Welcome to a new feature on the Ewe Ewe blog about living a creative life and a few things I've found that have inspired me lately. I love to knit and crochet but I also enjoy gardening, cooking, photography and a craft cocktail or two. Some of the things you'll find in these new posts could range from where I'm knitting, what I'm cooking, and maybe some color inspiration.
Where I've been: Wholesale trade show time!
Have you ever wondered where your local yarn shop finds such amazing products to stock in their store? They find them at TNNA, the National Needle Arts annual trade show.
I, as a wholesale yarn company, go and exhibit in a booth for a three day yarn-filled weekend where I get to meet shop owners and introduce them to Ewe Ewe Yarns.
Last week we were in Cleveland, OH and we had a blast. I got to see old and new friends, interface with designers, shop owners, other yarn companies and just generally get excited and inspired about what's coming for fall.
Designer Meaghan Schmaltz was on the floor with me talking up (and wearing!) Ewe Ewe Yarns. Look at her amazing Shifty sweater she knit using Fluffy Fingering yarn! I'm wearing her stunning Ewe So Summer shawl.
Here's a little gallery of the Ewe Ewe Yarns booth. Can you spot any new patterns? I bet you can! We have so many new patterns coming for fall.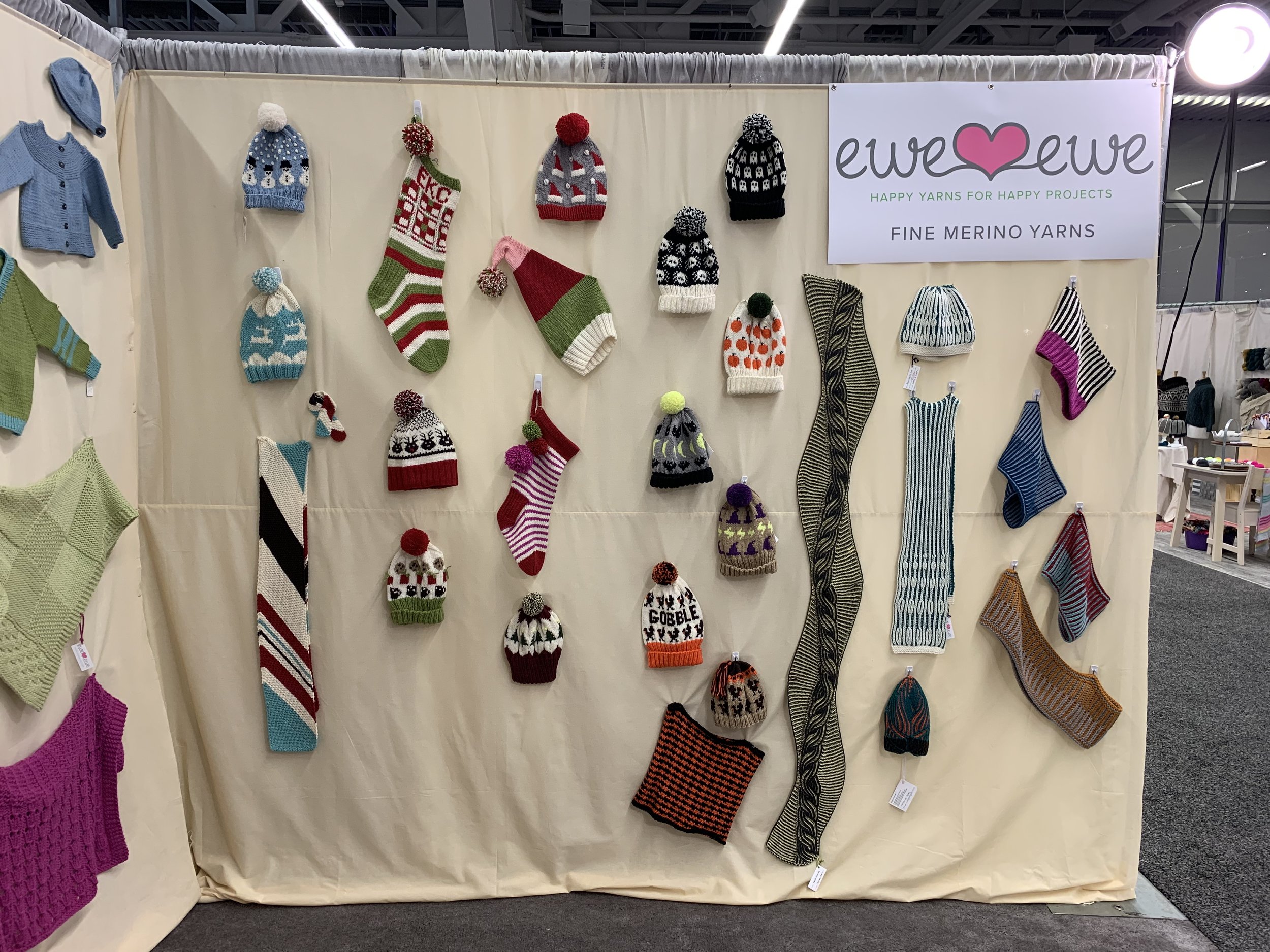 From around the web: Good Enough Creative podcast
Are you looking for a dose of creativity with a side of sunshine? Because that's what you'll find in Marie Greene's new podcast, Good Enough Creative. Each week Marie cheerily presents excellent topics about bringing more creativity into your life and how to keep it there. She has awesome ideas about organizing your creative space and even how to give your creative juices a boost. I highly recommend adding this 15 minute podcast to your weekly routine!
What I'm cooking: Gruyere, Mushroom and Caramelized Onion Bites
Do you need an easy recipe for a potluck this week? I have made these little tarts over and over again and they are always a hit. I even had a woman tell me to try them as I moved through the line one time!
Sautéed mushrooms combine with caramelized onions to make a rich flavor. A bit of gooey gruyere and thyme rounds out the flavor into a perfect little bite! I like to cut my puff pastry a little uneven like the photo for a nice rustic look.
Let me know if you decide to make these!
What I'm knitting: Foxtrot Cardigan by Marie Greene using Wooly Worsted merino yarn
The 4 Day KAL with Marie Greene starts this week!
Ewe Ewe Wooly Worsted yarn is perfect for this sweater. I am using color 73 Midnight Blue and loving every stitch of it! If you'd like more info about joining the KAL read the details here. You can also get a kit to make the sweater here!
I hope you have had a creative week. Leave me a comment to let me know what you've been up to!
💗 Heather